Wood Recycling Done at Your Facility
"Metro Milwaukee's Answer
to Wood Waste Management"
Part of The Alliance Group of Companies
Total wood reduction, removal & recycling
Pallets, crates, boxes & loose lumber
Total sustainability / 100% is recycled
Less expensive vs. disposing in dumpsters
Frees up considerable floor or yard space
Cost is based solely on amount hauled out
Alliance On-Site is the latest addition to the Alliance Group of Companies. Today, manufacturers nationwide are searching for the most viable, cost-effective and sustainable process to recycle scrap pallets, wood shipping boxes / crates and loose lumber. Virtually all of these companies have adopted a "green" agenda for all waste materials. They've also designed and currently maintain waste stream management reports and analyses with two primary objectives for their wood recycling program:
1. 100% sustainability, essentially no wood waste going to a landfill
2. To realize any possible wood recycling cost reductions
Unlike the recycling of aluminum, metal or plastic, there are few simple options or processes to recycle wood, making it a top priority. Currently a lot of the scrap pallets, wood crates and loose lumber are being disposed of in dumpsters. Doing so doesn't meet most company's waste stream objectives:
It isn't viable because larger shipping boxes or crates won't fit in the dumpster.
It isn't cost effective because when pallets and crates are thrown in a dumpster they don't stack. So half of the dumpster contents is just air. Thus it doesn't take much to fill one, so a disposal company's dumpster "pulls" become frequent and expensive.
It isn't sustainable because pallets and crates in dumpsters are headed straight to a landfill and will not be recycled.
Disposing of wood in dumpsters appeared to be one of a few recycling options available . . .
until now!! Alliance On-Site, operating as a division of Alliance Forest Products, is
"Metro Milwaukee's Answer to Wood Waste Management"
BEFORE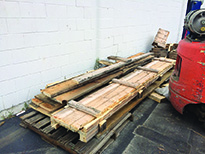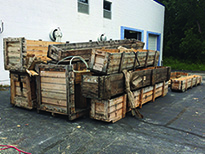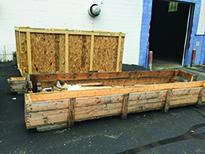 DURING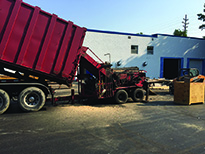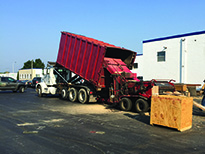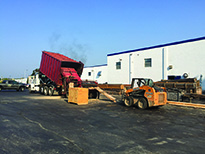 AFTER